LED Pin Fin Heat Sink Custom | Famos Tech
Product Detail
Product Tags
LED Pin Fin Heat Sink Importance
At present, the biggest technical problem of LED lamps is heat dissipation, after the LED light source is powered on, about 30% of the electric energy is converted into light energy, and the rest is converted into heat energy, Therefore, it is the key technology of LED lamp structure design to export so much heat energy as soon as possible.
Heat energy can only be distributed through heat conduction, heat convection and heat radiation,the LED light source has no infrared and ultraviolet rays, so the LED light source has no radiation and heat dissipation function.
The heat dissipation of LED lamps can only be derived through the heat sink closely combined with the LED chips board. In addition to quickly transferring heat from the heat source to the led heat sink surface, the main thing is to dissipate heat into the air by convection and radiation.
LED Pin Fin Heat Sink Advantages
LED pin fin heat sink normally is manufactured by Aluminum cold forging process, so it has below several advantages:
1. The price of cold forging die is not high, which can effectively control the cost
2. High production capacity, suitable for mass production.
3. The mold making cycle is short, usually 10 to 15 days.
4. One time molding, the heat dissipation performance is consistent with that of the material, and the post process is few and simple.
LED Pin Fin Heat Sink Examples
Anodized aluminum heat sink
150w LED lamp
Pure Aluminum 1060 material
Size : Dia 108MM ,H 25MM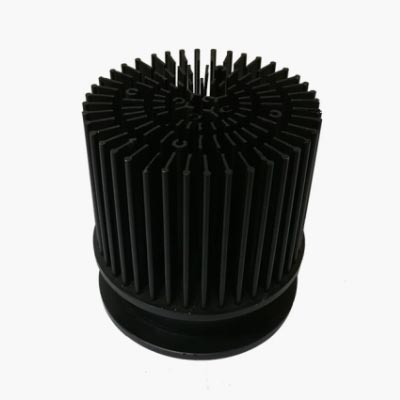 LED Downlight pin fin heat sink
Size: Dia 92MM ,H 96MM
Surface treatment: Anodizing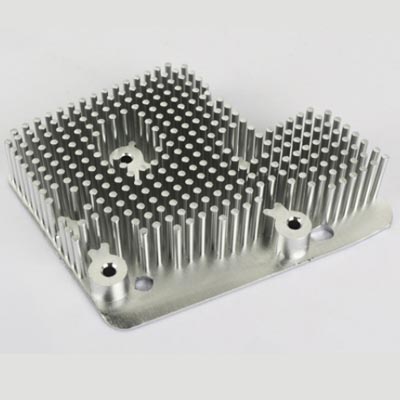 Car LED Pin fin heat sink
Material : Aluminum 1070
Surface treatment: Anodizing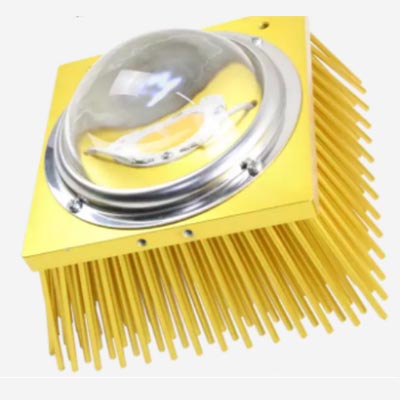 LED COB pin fin heat sink
Material: Al 1070
Size: 125*125*70mm
Surface treatment: Anodizing
Get Fast Sample With 4 Simple Steps
LED Pin Fin Heat Sink Best Supplier
Famos Tech has professional team to provide you with efficient service, our products competitive price with good quality, rich experience engineer support you for prototype to mass production.
We are your pin fin heat sink custom best supplier.
Custom Your Pin Fin Heat Sink
Custom pin fin heat sink professional designer
 We have more than 10 rich-experienced design engineers whom are in heat sink, whether you already have heat sink design file, or you only have a concept, Famos Tech is here to support you from design to mass production, free design and free samples for you to start your project.
 Just contact us and let us know your detailed requirements, our heat sink designer can fast complete the heat sink design , if you already have a design file, our heat sink designer can help you optimize it to get optimal heat dissipation performance and save material cost. 
---
---
Write your message here and send it to us