Heat Pipe Heat Sink Custom
 Heat pipe heat sink is a heat dissipation device using heat pipe technology, it is a high effective heat sink using a vacuum-sealed copper tube with an inner core lining and combined with an aluminum block or fins. In some situations where space is limited but heat generation is high, there is a strong demand for customization of heat pipe heat sinks
Heat Pipe Heat Sink Manufacturer,factory In China
Over 15 years OEM&ODM experience in heat pipe heat sink design and manufacture, own different mechanical equipment to complete different producing process.
Including: CNC Machining,Extrustion,Cutting,Cold forging,Die casting,Stamping,Skiving,Folding,Inserting,Welding,Nickel Plating, Bending,Soldering,Cross Cutting,Milling,Drilling etc.
Custom Heat Pipe Heatsink For Your Projects
Don't you find what you are looking for?
As a global leading heatsink provider, Famos Tech can provide different shape heat sinks to meet your requirements.
Just tell us your detailed requirements. The best offer will be provided.
How to custom heat pipe heatsink ?
1. According to the size of the space where the heat sink is placed, determine the size and shape of the heat sink with heat pipe.
2. Base on the heat dissipation requirements and consider cost, select suitable heat pipe materials, heat pipe diameter, length, quantity, and other parameters of the heat pipe to custom heat pipe.
3. According to the structure requirements, design the heat pipes arrangement and determine aluminum block or fins structure, including the shape and the distance between the fins. This step is very important when making a heat sink with heat pipe, which affects the heat dissipation performance and stability of the heat sink
4. Thermal simulation and sample test: optimize the design through thermal simulation software then make sample to test, After testing and inspecting the performance and quality of the heatpipe heatsink, ensure that it meets the requirements and then proceed to batch production.
5. Mass production ,when sample test passed, we can start mass production, at the same time, it is also necessary to conduct quality testing on the heat pipe heatsink to ensure that the quality of the heatsink with heatpipe can meet the standard requirements.
6. Packing and delivery: Finally, the heat pipe heat sink was packaged and shipped according to customer requirements, and the customized service for the heat pipe heatsink was completed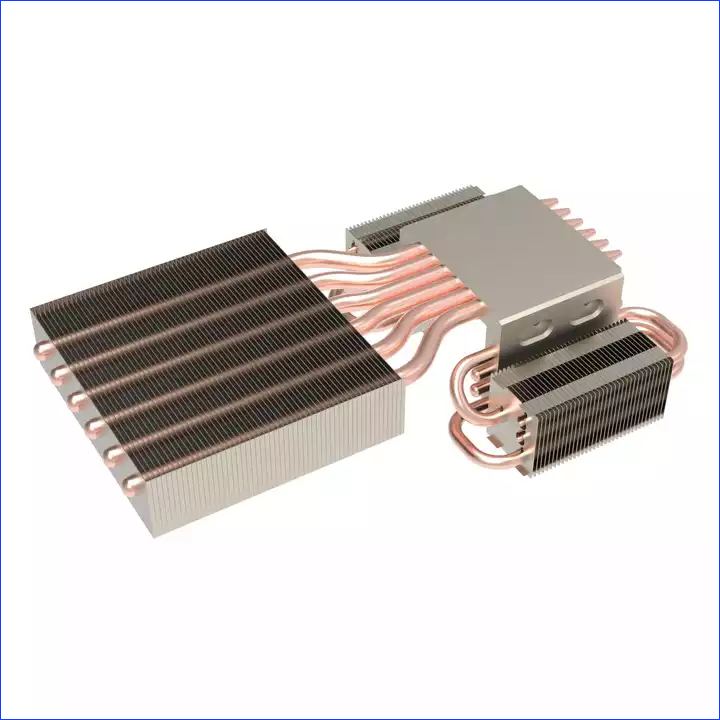 Famos Is Heat Pipe Heat Sink Professional Manufacturer
Item Type

Heat pipe heat sink

Plate material

Aluminum /Copper 

Tube material

Copper

Shapes

Customizable

Production Process

Aluminum plate cutting—CNC Grooves making—Embedding Tubes (Friction stir welding, Vacuum brazing)—Epoxy adhesive filling—CNC machining—Cleaning—Inspecting—Packing

Technology

Extrusion, Skiving, Stamping, Cold Forging, Die-casting

Application

LED Lighting, Automotive, Communication Equipment, Electronics Industry, Computer,camera systems,Power supply,Defence, Military and Aerospace,etc

Finish

Anodizing, Mill finish, Electroplating, Polishing, Sandblasting, Powder coating, Silver plating, Brushing, Painting, PVDF, etc.

Deep process

CNC,drilling,milling,cutting,stamping,welding,bending,assembling,Custom Aluminum Fabrication

MOQ

Low MOQ

Packaging

Standard Export Packaging Or As Discussed

Certificate

CE/SGS/ISO/Rohs

Service

1. Free sample, Free design;
2. OEM/ODM available;
3. Thermal solution expert support;
4. Excellent pre-sale & after-sale service

Delivery time

15-20 days after sample confirmed & down payment, or negotiated

Our Advantage

Superior quality with competitive price, Certified enterprises in China

Port

 Shenzhen/Guangzhou Port
Heat Pipe Heat Sink Advantages
1. Heat pipe heatsink has a faster thermal response speed .
2. Heat pipe smaller size, light weight.
3. Higher cooling efficiency, can simplify the cooling design of electronic equipment
4. Has a good isothermal, thermal balance, the evaporation section and cooling section of the temperature gradient is quite small, can be approximately regarded as 0.
5. The heat pipe sink is safe and reliable, and does not pollute the environment
Heat Pipe Heat Dissipation Principle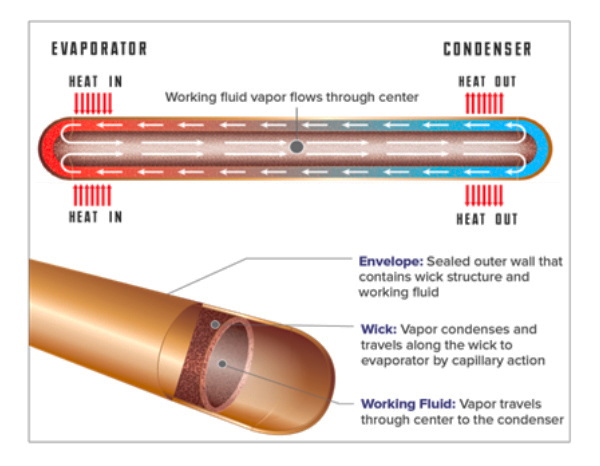 A heat pipe consists of a working fluid, a wick structure, and a vacuum-tight containment unit (envelope). The heat input vaporizes the working fluid in liquid form at the wick surface in the evaporator section.
Vapor and its associated latent heat flow toward the colder condenser section, where it condenses, giving up the latent heat. Capillary action then moves the condensed liquid back to the evaporator through the wick structure. Essentially, this operates in the same way as to how a sponge soaks up water.
Custom Heat Pipe Design Options
Outer diameter (OD): From 2.0mm to over 50mm.
Cross-section geometry: round, rectangular or flattened
Length: any, depending on the application
Geometry: straight or multiple bends (certain bend radius limits apply)
Bonding of heat pipes to assembly: mechanical, epoxy, or soldering
Heat pipe surface coating: nickel or tin
Heat Pipe Heat Sink Common Combination
There are five main types of heatsink with heatpipe:
a. Extruded heat sink with heat pipe
b. Die cast heat sink with heat pipe
c. Pin fin heat sink with heat pipe
d. Stamping fin heat sink with heat pipe
e. CNC machining heat sink with heat pipe
Heat Pipe Heat Sink Application
Heatpipe heatsink widely used in many industries
– Automotive (e.g. LED headlights, powertrain, batteries for e-vehicles, infotainment, e-mobility).
– Industrial (e.g. industrial notebooks, high-performance computers and processors, servers, graphics cards, gaming, IoT products, camera systems, high-performance LEDs)
– Power supply (e.g. voltage converters, power supplies)
– Consumer electronics
– Defence, Military and Aerospace
What Is The Manufacturing Process of Heat Sinks with Embedded Heat Pipes ?
The manufacturing process of heat sinks with embedded heat pipes typically involves the following steps:
1. Material selection: High thermally conductive metal materials such as copper or aluminum are selected for the heat sink, and prepare the heat pipes . 
2. Heat sink processing: The metal material is processed to the shape and size of the heat sink using cutting, drilling, bending, and other techniques.
3. Installation of heat pipes: The heat pipes are inserted into the heat sink to maximize contact area between the heat pipes and the heat sink.
4. Welding: The heat pipes and heat sink are tightly connected using pressure welding or spot welding to ensure unobstructed heat transfer.
5. Surface treatment: The heat sink's surface is treated by processes including polishing, spraying, etc. to improve its aesthetic appearance and stability.
6. Heat sink testing: This tests the thermal performance and stability of the heat sink post-manufacture.
The manufacturing of heat sinks with embedded heat pipes is a complex process requiring high-level technical skills and precise equipment. Proper manufacturing techniques and high-quality materials are key factors in achieving a superior product.
Custom Heat Pipe Heat Sink China Leading Manufacturer
Famos specialize in thermal solution over 15 years, it is heat sink leading manufacturer, top provider of heatpipe heatsink products. More than 10 thermal solution experts and 50+ master engineers working in research & develop department. Can supply you with optimal thermal solutions. don't hesitate to contact us, we are  custom heat pipe heatsink best partner!
Why Choose Us As Your Heat Sink Supplier In China
Have a Special Requirement?
Generally, we have common heat sinks products and raw materials in stock. For your special demand, we offer you our customization service. We accept OEM/ODM. For an accurate quotation, you need to tell us the following information:
Famos Tech Is Heat Dissipation Expert
Famos focus on heatsink ODM & OEM for over 15 years, our heat sink factory customizes and wholesale bulk extruded aluminum heat sinks, designed and produced more than 5000 different shape heatsinks. If you have any heat sink requirements, welcome to contact us.