Stamped heat sink is a type of heat dissipation component made through stamping technology, usually used for products that require heat dissipation such as automotive engines, electronic equipment, computers, etc. Stamped fin heat sinks are mostly made of materials such as copper and aluminum, They can effectively transmit heat and ensure the good working condition of the equipment. Stamping heat sinks mainly include various types such as zipper fin heat sink and folded fin heat sink, which have different shapes and sizes and can be customized according to specific needs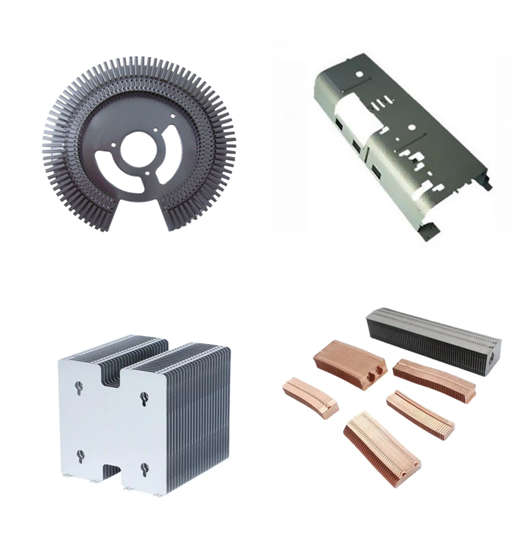 Best Stamping Heat Sink Manufacturer,factory In China
Famos Tech is stamped fin heat sink professional designer & manufacturer, we can ensure that you have the best thermal solution based on your system structure and thermal requirements, from prototype to mass production, we provide one-stop service.
Stamping Heat Sink Examples
Stamping Folded Fin Heat Sink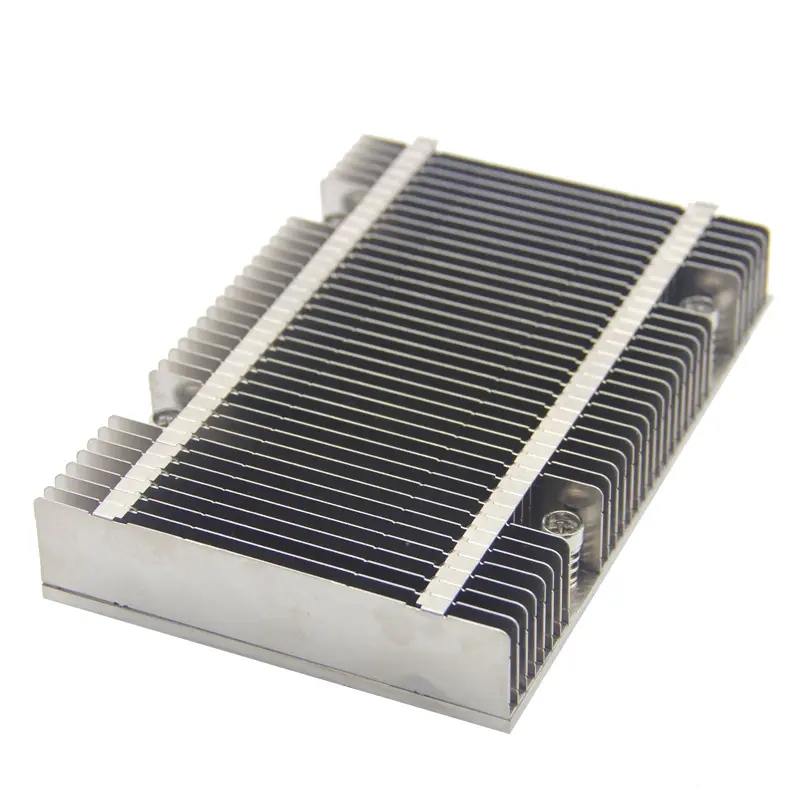 Stacked Stamping Heat Sink
Stamped Zipper Fin Heat Sink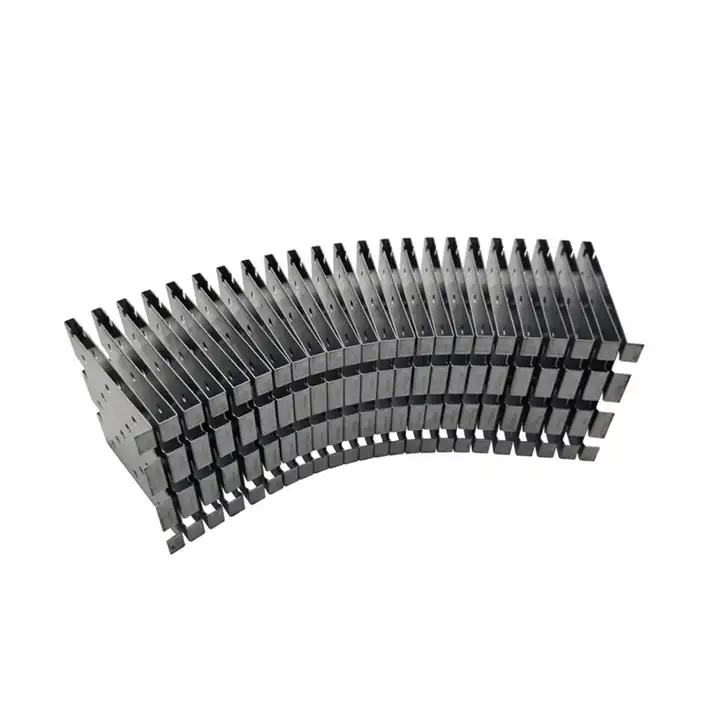 Stack Fin Stamping Heatsink
Stamping Aluminum Heat Sink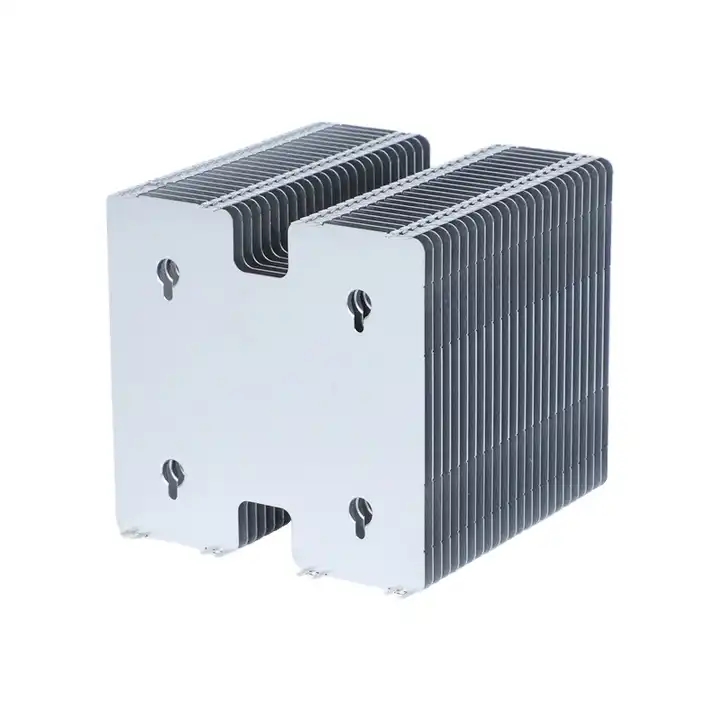 Stack Stamped Fin Heat Sink
Don't you find what you are looking for?
As a global leading heatsink provider, Famos Tech can provide different shape heat sinks to meet your requirements.
Just tell us your detailed requirements. The best offer will be provided.
Stamping Heat Sink Manufacturing Process
Stamped heat sink is a commonly used heat dissipation component, widely used in fields such as electronics, automobiles, and industry. The manufacturing process can be divided into the following steps:
1. Material selection: The materials commonly used for stamping heat sink include aluminum plate, copper plate, magnesium alloy, etc. According to actual usage needs, select suitable materials for processing.
2. Mold design: Design the stamping mold based on the shape and size of the heat sink. 
3. Stamping processing: Place the selected material on the mold and use a stamping machine for stamping processing. During the processing, the required shape and structure of the heat sink are manufactured through molds.
4. Cutting and punching: After the stamping process is completed, the heat sink needs to be cut to the required size. At the same time, drilling holes in the heat sink can improve its heat dissipation effect.
 5. Assembly: Assemble the stamped fins together parallelly or crosswise and fix them to the heat sink base plate.
6.Surface treatment: According to actual needs, treat the surface of the heat sink. For example, anodizing treatment can improve the corrosion resistance and aesthetics of heat dissipation fins.
7. Quality inspection: Conduct quality inspection on stamped heat sinks, including appearance inspection, size inspection, etc. Ensure that each heat sink meets the design requirements and has the required performance and reliability.
The above is the basic process flow for manufacturing stamping heatsinks. Due to the low cost and high manufacturing efficiency of stamping technology, stamping heat sinks are widely used in modern industry.
Custom Stamping Heat Sink Detail Info As Below:
| | |
| --- | --- |
| Item Type | Stamped Fin Heat Sink |
| Material | Aluminum/Copper  |
| Size | Standard or customized size |
| Colors | Different Color Option |
| Shape | Follow the design |
| Thickness | Customized |
| Application | LED Lamp, Computer ,Inverter, Communication Device, Power Supply Equipment, Electronic Industry, Thermoelectric Coolers/Generator, IGBT/UPS Cooling Systems, Automobile etc. |
| Production Process | Aluminum/Copper Sheet—Cutting—Stamping—Assembly— Surface treatment—Cleaning— Inspecting–Packing |
| Finish | Anodizing, Mill finish, Electroplating, Polishing, Sandblasted, Powder coating, Silver plating, Brushed, Painted, PVDF, etc. |
| Deep process | CNC machining,drilling,milling,cutting,stamping,welding,bending,assembling,etc. |
| Tolerance | ±0.01mm |
| Length | Customized  |
| MOQ | Low MOQ |
| Packaging | Standard export packaging or as discussed |
| OEM & ODM | Available. our engineer can check and discuss your design, great help! |
| Free Samples | Yes, we can provide free sample |
| Delivery time | 15-25 days after sample confirmed & down payment, or negotiated |
| Port |  Shenzhen/Guangzhou Port |
Advantages of Stamping Heat Sink
Stamped heat sinks have the following advantages:
1. Good heat dissipation performance: Stamped fin heat sinks are usually made of excellent thermal conductivity materials such as aluminum alloy and copper, which have excellent thermal conductivity and good heat dissipation effect. They can effectively reduce equipment temperature, improve equipment efficiency and lifespan.
2. Customizable: The manufacturing process of stamped heat sinks is relatively flexible, and personalized design and customization can be carried out in terms of materials, dimensions, shapes, etc. According to customer needs, heat sinks suitable for specific equipment can be produced to improve their effectiveness and efficiency.
3. Light weight and low cost: Compared to other heat dissipation methods, stamped heat sinks are light in weight and low in cost. Moreover, due to the thin material, the heat transfer efficiency is higher, making the cost of manufacturing stamped heatsinks lower.
4. Exquisite appearance and easy to install: Compared with other heat dissipation methods, stamped heat sinks often have a beautiful appearance, especially when complex shaped heat sinks can be achieved through precise mold processing during stamping, and are also easy to assemble and maintain.


Why Choose Us As Your Heat Sink Supplier In China
Have a Special Requirement?
Generally, we have common heat sinks products and raw materials in stock. For your special demand, we offer you our customization service. We accept OEM/ODM. For an accurate quotation, you need to tell us the following information:
Famos Tech Is Heat Dissipation Expert
Famos focus on heatsink ODM & OEM for over 15 years, our heat sink factory customizes and wholesale bulk heat sink products, designed and produced more than 5000 different shape heatsinks. If you have any heat sink requirements, welcome to contact us.