Custom pin fin heat sink is easy , for users who need to customize the pin fin heat sink, they need to understand their requirements on the size, shape, material, heat dissipation efficiency and other aspects of the heat sink. Secondly, they can find a professional manufacturer of customized pin fin heatsinks for consultation and cooperation.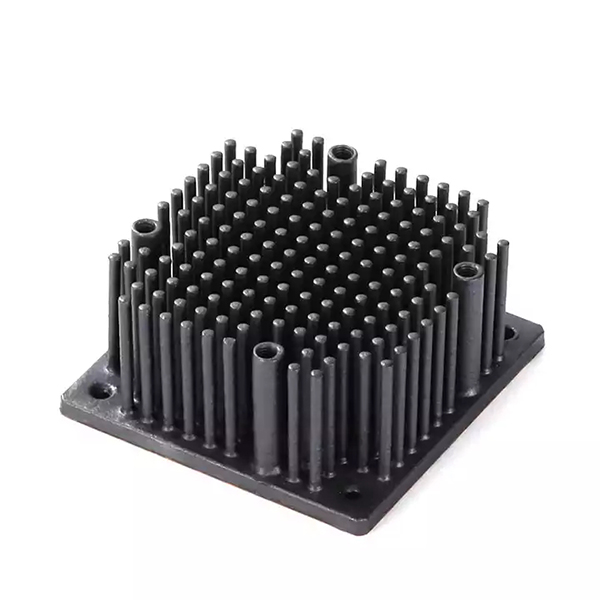 Best Pin Fin Heat Sink Manufacturer,factory In China
Welcome to contact us to custom pin fin heat sinks for your project, Famos Tech has rich experience at heat sink custom field, we specializing in custom heatsinks for over 15 years, supply OEM & ODM service, free design and free samples are available, custom heat sink best partner.
Including: CNC Machining,Extrustion,Cutting,Cold forging,Die casting,Stamping,Skiving,Folding,Inserting,Welding,Nickel Plating, Bending,Soldering,Cross Cutting,Milling,Drilling etc.
Custom Your Pin Fin Heat Sink
Don't you find what you are looking for?
As a global leading heatsink provider, Famos Tech can provide different shape heat sinks to meet your requirements.
Just tell us your detailed requirements. The best offer will be provided.
Famos Is Pin Fin Heat Sink Reliable And Professional Manufacturer
Item Type

Pin fin heat sink

Material

Aluminum/Copper

Base Thickness

Customizable

Pin Height

Customizable

Shape

Square pin,round pin or other customized shapes 

Application

LED Lamp, Computer ,Inverter, Communication Device, Power Supply Equipment, Electronic Industry, Thermoelectric Coolers/Generator, IGBT/UPS Cooling Systems, Automobile etc.

Finish

Anodizing, Mill finish, Electroplating, Polishing, Sandblasted, Powder coating, Silver plating, Brushed, Painted, PVDF, etc.

Deep process

CNC,drilling,milling,cutting,stamping,welding,bending,assembling,Custom Aluminum Fabrication

MOQ

Low MOQ

Packaging

Standard export packaging or as discussed

Certificate

CE/SGS/ISO/Rohs

Service

1. Free sample, Free design;
2. OEM/ODM available;
3. Thermal solution expert support;
4. Excellent pre-sale & after-sale service

Delivery time

15-20 days after sample confirmed & down payment, or negotiated

Our Advantage

Excellent quality with competitive price, Certified enterprises in China

Port

Shenzhen/Guangzhou Port
How to custom pin fin heat sink ?
Before customizing the pin-fin heat sink, we need to clarify the requirements for the size, material, heat dissipation efficiency and other aspects of the heat sink. These specifications are often based on specific equipment or systems, so it is necessary to fully consider the actual application requirements and conditions
According to the specification requirements of the heat sink, we need to select appropriate materials to ensure the quality and effect of the heat sink. Commonly used heat sink materials include aluminum alloy, copper alloy, stainless steel, etc. They have different thermal conductivity, density, corrosion resistance and other characteristics. It is necessary to select the most suitable material through experiments and calculations
After the specification requirements and material selection of the heat sink are determined, we need to design and process the heat sink. In the design process, it is necessary to fully consider the structure of the fins, heat removal area, number of fins, fin spacing and other factors. In the processing process, the commonly used methods include CNC machine tools, laser cutting and other technologies
The customized pin-fin heat sink needs to be tested several times to confirm its heat dissipation effect and quality. The test methods include air cooling, water cooling and other methods. The actual effect of the heat sink is verified by monitoring the temperature, flow and other parameters.
After confirming the quality of the heat sink through the test, we need to make it in batch and deliver it according to the agreed delivery date.
Custom pin fin heat sink structural design
The structural design of pin-fin heatsinks needs to consider the following aspects:
1. Area and thickness of heat sink: calculate the required area and thickness of heat sink according to the actual application scenario.
2. Number and structure of fins: the number and structure of fins have a great impact on its heat dissipation performance, which needs to be designed and optimized according to the specific situation.
3. Layout of heat sink: the layout of heat sink is also one of the factors that affect the heat dissipation performance, which needs to be analyzed and designed according to the specific situation.
The above are the main aspects to be considered in the structural design of pin-fin heat sinks.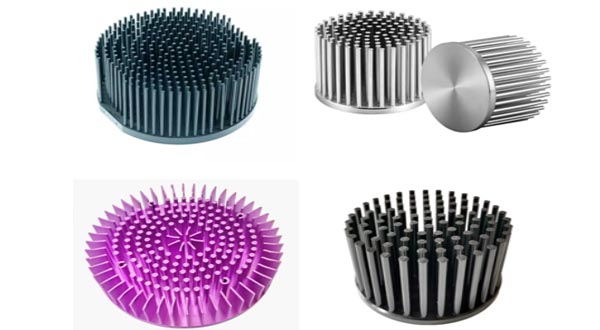 Custom pin fin heat sink best manufacturer
As a professional manufacturer of pin fin heat sink, we have been committed to providing customers with the best quality products and services. Here are our factory advantages:
1. Advanced production equipment
We have advanced pin fin heat sink production equipment, which can meet the needs of mass production and customization. We continue to introduce and develop new technologies to continuously improve the quality and performance of our products.
2. Strict quality control system:
In the production process of our products, we adopt a number of strict quality control measures, such as the quality control of the whole process, acceptance standards, and the cultivation of quality awareness of all staff, to ensure the accuracy and reliability of each product. Our radiator products have passed many international certifications, such as ISO 9001, ISO/TS 16949, etc.
3. Efficient production capacity and fast delivery cycle:
In order to meet the needs of customers for fast delivery, we have established an efficient production planning and management system to ensure the reliability of delivery time. Our production capacity is large, and we can quickly process various large quantities of orders, and provide powerful customization services. Customers can choose different radiator sizes, materials, shapes and structures according to their needs.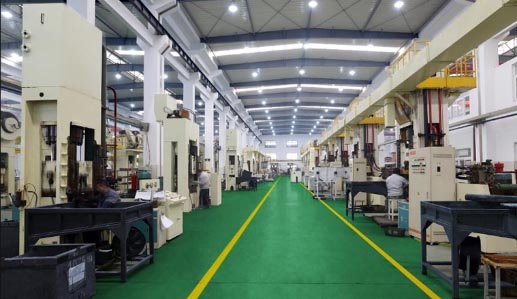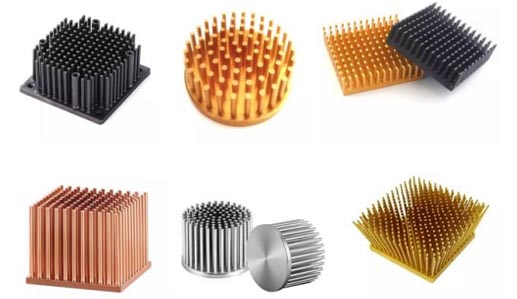 Have a Special Requirement?
Generally, we have common heat sinks products and raw materials in stock. For your special demand, we offer you our customization service. We accept OEM/ODM. For an accurate quotation, you need to tell us the following information:
Pin Fin Heat Sink:The Ultimate Guide
A pin-fin heat sink refers to a heat sink design that uses a series of small fins or pins to increase the surface area for heat dissipation. This design is often used to manage the heat generated by electronic components such as CPUs to prevent overheating and damage. The pins are usually made of materials with high thermal conductivity, such as aluminum or copper, and can be arranged in various configurations to optimize performance. Pin-fin heat sinks are popular for their compact size and efficient heat transfer capabilities, making them ideal for use in small or densely packed electronic devices.
Pin fin heat sink sometimes also called by customers as pin fin heatsink , pin fin heat sinks, pin-fin heat sink or pin heatsink, pin heat sink,  etc, usually they express the same product.
Pin Fin Heat Sink Material
The most common pin fin heat sink is aluminum pin fin heat sink and copper pin fin heat sink.
1. Aluminum pin fin heatsink show perfect performance because the material is relatively light, In addition, it provides better and more even heat dissipation than pin fin heat sinks made of other materials. Aluminum rarely requires plating because it guarantees optimal corrosion resistance to coolant, Thus, this material provides a cost-effective option for the manufacture of pin fin heatsinks
2. Copper pin fin heat sink shows higher level of thermal conductivity than aluminum. This excellent thermal conductivity enables copper to easily absorb power peaks. In most cases, it comes with a thin metal coating that effectively prevents corrosion, It is the most suitable material choice for relatively high-end applications, because copper is more expensive than aluminum
Pin Fin Heat Sink Advantages
1. Pin fin heat sink have a great thermal performance when the ambient airflow is limited, it allows the airflow can pass through the heat sink from any direction
2. Pin fin heat sink provide low thermal resistance at low airflow rate, it's the extraordinary thermal option for natural convection, instable airflow circumtances.
3. Pin fin heat sink has low pressure drop property, due to the pin fin construction, the low pressure drop can improve the thermal transferring ability.
4. The cold forging and extrusion process make the heat sink as a solid structure ,there is no connection joint between the fins and base, so no thermal resistance between the fins and base, then the heat can be transferred to the fins quickly and dissipated rapidly.
Factors Affecting The Pin Fin Heat Sink Efficiency
There are many factors that determine the overall performance of a pin fin heatsink, here are the common elements you must consider to start design a pin fin heat sink:
1. Material
In general, aluminum and copper are the main materials used in the manufacture of high efficiency pin fin heat sinks,but different alloys with different thermal conductivity, so need according to the specific project to choose different aluminum alloy series
2. Pin Fin array design
Pin fin heat sinks normally the pins can be oval, square, or round, different shape and array from the base, has a huge impact on the overall performance of the heat sinks.
3. Surface treatment
Surface treatment of the heat sink also will impact the thermal conductivity of the heatsinks, heat sink with a matte black surface is more effective than a shiny bare metal heat sink. Technically, gloss surface finish has a low effective emissivity due to its low surface area.
4. Size of the heat sinks
The overall efficiency of a pin fin heat sink is hugely determined by its size, Larger size tend to be more efficient than smaller ones
Pin Fin Heat Sink Applications
Pin fin heat sinks widely used in various devices, such as below:
Amplifiers
Control processing units
Motherboards
Medical equipments
IC cooling
IGBT 
Automobile radiators
Transformers
Telecommunication equipment
Industrial components and equipment
Lighting lamps
Refrigerator condensers
Here take an example of pin fin heat sink for igbt market
In the IGBT market, pin fin heat sink is an important heat sink material mainly used for heat dissipation of IGBT modules. IGBT is a high-performance semiconductor transistor widely used in fields such as power electronics, rail transit, and new energy.
As the power density of IGBT modules continues to increase, their heat will also become more concentrated, making heat dissipation more important. The pin-fin heat sink has unique heat dissipation performance, which can achieve faster and more efficient heat dissipation, thereby ensuring the stable operation and lifespan of IGBT modules.
In addition, with the development of the new energy vehicle industry, the application of pin fin heat sinks in IGBT will also continue to improve. The IGBT module is an indispensable part of the motor control system used in new energy vehicles, and its heat dissipation effect directly affects the performance and stability of the entire system. Therefore, the application prospects of pin heatsink in the field of new energy vehicles are very broad.
Overall, with the continuous development and growth of the IGBT market, as an important supporting material, the market demand for pin fin heatsinks will gradually increase and is expected to maintain a sustained growth trend.
Custom pin fin heat sink professional designer
 We have more than 10 rich-experienced design engineers whom are in heat sink, whether you already have heat sink design file, or you only have a concept, Famos Tech is here to support you from design to mass production, free design and free samples for you to start your project.
 Just contact us and let us know your detailed requirements, our heat sink designer can fast complete the heat sink design , if you already have a design file, our heat sink designer can help you optimize it to get optimal heat dissipation performance and save material cost.