Skived fin heat sink is manufactured by high precision skiving machine with accurately controlled sharp blade, it cut thin piece of specified thickness from a whole piece of metal profile (AL6063 or copper C1100),then bend the thin piece metal vertically to form the heat sink fins.
Custom Skived Fin Heat Sink
Famos Tech is skived fin heat sink professional designer & manufacturer, we can ensure that you have the best thermal solution based on your system structure and thermal requirements, from prototype to mass production, we provide one-stop service.
Skived Fin Heat Sink Examples
Aluminum Skived Fin Heat Sink
PV Inverter Skiving Heatsink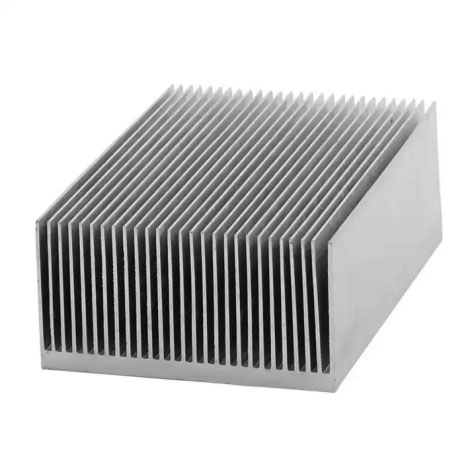 Custom Aluminum Skiving Fin Heatsink
Don't you find what you are looking for?
As a global leading heatsink provider, Famos Tech can provide different shape heat sinks to meet your requirements.
Just tell us your detailed requirements. The best offer will be provided.
The more detailed description about custom skiving fin heat sink as below:
Item Type

Skived Fin Heat Sink

Material

Copper/aluminum 6063/6061/6005/6060/7005.

Temper

T3-T8

Production Process

Material preparing—Cutting—Skiving—Deburring— Surface treatment—Cleaning— Inspecting–Packing

Technical

Extrusion, skiving, stamping, cold forging, bonding, die-casting, folding, etc

Application

LED Lamp, Computer ,Inverter, Communication Device, Power Supply Equipment, Electronic Industry, Thermoelectric Coolers/Generator, IGBT/UPS Cooling Systems, Automobile etc.

Thickness

Based on your requirements.

Film Thickness

Anodized: Customized. Normal thickness: 8 um-25um.

Powder Coating: Customized. Normal thickness: 60-120 um.

Color

Silver, black, white, bronze, champagne, green, gray, golden yellow, nickel, or customized.

Finish

Anodizing, Mill finish, Electroplating, Polishing, Sandblasted, Powder coating, Silver plating, Brushed, Painted, PVDF etc.

Length

customized length

Deep process

CNC machining,drilling,milling,cutting,stamping,welding,bending,assembling,Custom Aluminum Fabrication

MOQ

Low MOQ

Packaging

Standard export packaging or as discussed

Certificate

CE/SGS/ISO/Rohs

Service

1. Free sample, Free design;
2. OEM/ODM available;
3. Custom-made request;
4. New design solution suggestion

Delivery time

15-20 days after sample confirmed & down payment, or negotiated

Port

Shenzhen/Guangzhou Port

Our Advantage

Superior quality with competitive price, Certified enterprises in China
Skived Fin Heat Sink Design guidelines
The design of skived fin heat sink generally follows the following requirements:
· Material: Copper (C1100) or Aluminum (6063/1060)
· Maximum width: unlimited
· Maximum fin length: 500 mm (20″)
· Maximum fin height: 100 mm (4")
· Recommended fin height: <50 mm (2")
· Recommended thickness for aluminum fins: 0.2-1.2 mm (0.008-0.047")
· Recommended thickness for copper fins: 0.1-0.6 mm (0.004-0.024")
· Minimum fin spacing (gap): 0.1 mm (0.004")
· Maximum fin spacing (gap): 8.0 mm (0.31")
As we know skiving fin heat sinks have a higher density of fins, improving the heat dissipation area and performance, but in order to get optimal cooling performance, the fins not the denser the better, we need choose optimal fin thickness and fin gap distance, need overall consideration. we have rich experience of this, and thermal simulation software aided design. We can give you best solution.
Skived Fin Heat Sink Characteristic
Skived fin heat sinks provide highly optimized cooling because they allow higher fin density than the heat sink produced by extrusion, but do not have interface joints that limit heat flow (such as bonded or brazed fin heat sinks).
The skived fin heat sink is made of a single material, there is no joint between the base and the fins, it has a low thermal resistance.
Skived Fin Heat Sink Advantages
1. The processing technology is simple and the cost of tooling and fixture is less.
2. The heat transfer effect is better. The skiving fin heat sink fin and the bottom plate are integrated, and the heat is transferred from the bottom plate to the fin without any other medium.
3. Thinner fin, higher fin density. Compared with aluminum extrusion, under the same weight and volume, the heat exchange area can be increased by more than 50%.
4. Due to the uniform material, it is convenient to use various surface treatments, such as conductive oxidation, passivation, anodizing, etc to adapt to different use environments.
5.Efficient and reliable, without failure risk while ensuring efficient heat dissipation.
Skived Fin Heat Sink Application Field:
Skived fin heat sinks are commonly used in the following applications:
Skived Fin Heat Sink Leading Manufacturer
Famos Tech is a skived fin heat sink leading manufacturer, specialize in metal heat sinks R&D,manufacturing,sales and service for over 15 years, have rich experience from design ,prototype, test to mass production. so far, we have more than 50 engineers and 10 thermal solution experts, total 465 stuff working in our factory,is your best thermal solution provider.
Why Choose Us As Your Heat Sink Supplier In China