Extruded Heat Sink Custom
Extruded heat sink is a commonly used heat dissipation device with excellent heat dissipation performance and high stability, and is widely used in the electronic, mechanical, and automotive industries.
Due to the different requirements for heat dissipation performance in different equipment and environments, customization of extruded heat sinks has become a common demand. We are the aluminum extrusion heat sink top supplier to serve customers all over the world.
Best Extruded Heat Sink Manufacturer,factory In China
Famos Tech is extruded heat sink professional designer & manufacturer, we can ensure that you have the best thermal solution based on your system structure and thermal requirements, from prototype to mass production, we provide one-stop service.
Custom Your Extruded Heat Sinks
Heat sink have many different produce processes, extruded heat sinks are the most common & cost-effective heatsinks used for thermal management in the industry. The most common aluminum alloys are 6063-T5, K=201 W/mK,  and 6063-T5, K=167 W/mK. These materials have excellent thermal conductivity.
Extruded heatsinks are usually supplied with a "finish" such as anodizing which can enhance its thermal performance. The heat sinks can also be supplied with a chromate finish which provides some corrosion protection.
Each extruded shape is unique to the requirements that it was designed for, extruded heat sinks are the most cost-effective cooling solution. Each heatsink is designed to achieve optimal thermal and structural performance.
The heat sink extrusion process allows to make innumerable shapes, here are some examples of extrusion heat sinks
Don't you find what you are looking for?
As a global leading heatsink provider, Famos Tech can provide different shape heat sinks to meet your requirements.
Just tell us your detailed requirements. The best offer will be provided.
How to custom extruded heat sink ?
The customization of extruded heat sinks usually involves the following steps:
First, it is necessary to determine the length, width, thickness, and shape of the heat sinks, such as square, rectangular, or circular, based on actual usage needs and industrial equipment specifications.
Secondly, select materials that match actual needs and aluminum alloy materials. Due to the good thermal conductivity of aluminum, the selection of aluminum alloy materials for aluminum extruded heat sinks is more lightweight and meets performance requirements.
Next, it is necessary to design the structure and arrangement of the heat sink according to the design requirements of the heat sink, including the spacing, number, and density of the heat sink. This step is very important when making a heat sink, as it affects the heat dissipation performance and stability of the heat sink. It is necessary to select the appropriate fin spacing, number of fins, and so on based on actual use needs.
After designing the size, material, structure, and other aspects of the heat sink, it is necessary to select appropriate aluminum extrusion production processes, such as aluminum extrusion, aluminum molding, casting, and so on. When making a heat sink, it is important to pay attention to the matching of material selection and production process to ensure that the heat sink meets quality and performance requirements.
After determining the design of the heat sink and the aluminum extrusion production process, sample testing and batch production are required. After testing and inspecting the performance and quality of the heat sink, ensure that it meets the requirements before batch production. At the same time, it is also necessary to conduct quality testing on the heat sink to ensure that the quality of the heat sink can meet the standard requirements.
Finally, the heat sink was packaged and shipped according to customer requirements, and the customized service for aluminum extruded heat sinks was completed.
In summary, customization of extruded heat sinks is a very important service, which requires selecting appropriate aluminum extrusion production processes and aluminum alloy materials based on specific needs to ensure that the quality and performance of heat sinks meet requirements.
Extruded Heat Sink Profiles
Extruded heat sink profiles are available in various designs to meet the diverse cooling requirements of electronic devices. Some of the common extruded heat sink profiles include the following:
1. Straight Fin Heat Sinks: These types of heat sinks feature straight, uniform fins that run parallel to the extrusion direction. They offer high thermal performance and are suitable for applications with low to medium airflow.
2. Pin Fin Heat Sinks: These heat sinks are designed with several small pins instead of straight fins. The pins increase the surface area of the heat sink, resulting in efficient heat dissipation even in low airflows.
3. Elliptical Fin Heat Sinks: As the name suggests, these heat sinks have fins with an elliptical cross-section. This design maximizes the surface area of the heat sink, resulting in better cooling performance.
4. Radial Fin Heat Sinks: Radial fin heat sinks feature fins arranged in a circular pattern. This design round heat sink extrusion provides better airflow through the heat sink, making it suitable for high-performance applications.
5. Customized heat sink profiles: Customized extruded heat sink profiles are designed to meet the specific cooling requirements of complex electronic devices. They can be designed with different fin densities, shapes, and sizes to optimize heat transfer in high-performance applications.
Extruded heat sink profiles are cost-effective, easy to manufacture, and offer superior thermal performance, making them an ideal solution for cooling electronic devices.
Extruded Heat Sink Manufacture Process
Famos Tech, as a professional extruded heat sink manufacturer, that guarantee by 30 engineers 10- Year Aluminum industry working experience. We own thousands of available standard mold, We can fast-matching which Extruded Heatsink reach 90% similar to yours, which can save your money and time for heat sink extrusion tool.
We stock a variety of extruded heat sink with Standard size. This can reduce your MOQ , furthermore, also can speed up lead time and ship out within 5 days. Contact our sales engineer for searching the request size for you.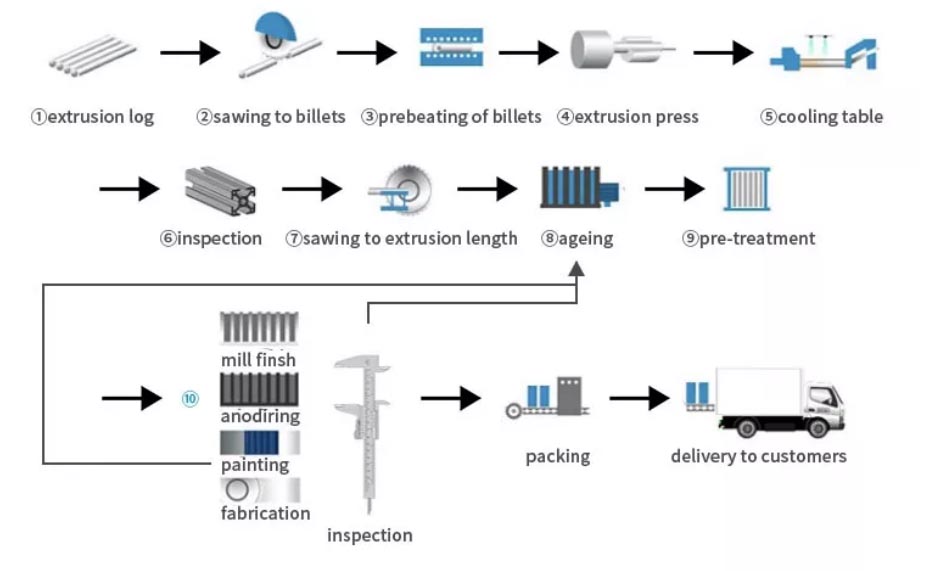 | | |
| --- | --- |
| Item Type | Extruded Heat Sink |
| Material | Aluminum, Copper |
| Size | Standard or customized size |
| Colors | Silver, black, blue, wood color, RAL powder coating color, and so on |
| Shape | Round heat sink extrusion, Square, Flat, Enclosure, or other customized shape |
| Thickness | 0.4mm-20mm or Customized |
| Application | LED Lamp, Computer ,Inverter, Communication Device, Power Supply Equipment, Electronic Industry, Thermoelectric Coolers/Generator, IGBT/UPS Cooling Systems, Automobile etc. |
| Production Process | Saw material -Profiles Extruding—Cutting—CNC Machining(Milling, Drilling, Tapping)—Deburring— Cleaning— Inspecting–Packing |
| Finish | Anodizing, Mill finish, Electroplating, Polishing, Sandblasted, Powder coating, Silver plating, Brushed, Painted, PVDF, etc. |
| Deep process | CNC,drilling,milling,cutting,stamping,welding,bending,assembling,Custom Aluminum Fabrication |
| Tolerance | ±0.01mm |
| Length | customized length |
| MOQ | Low MOQ |
| Packaging | standard export packaging or as discussed |
| OEM & ODM | Available. our engineer can check and discuss your design, great help! |
| Free Samples | Yes, we can provide free samples |
| Delivery time | 15-25 days after sample confirmed & done payment, or negotiated |
| Port | Shenzhen/ Guangzhou Port |
Extruded aluminum heatsink Leading manufacturer
We are a professional extruded aluminum heatsink leading manufacturer, we have been committed to providing customers with the best quality products and services, Here are our factory advantages:
We have advanced heat sink production equipments, which can meet the needs of mass production and customization. We continue to introduce and develop new technologies to continuously improve the quality and performance of our products.
In the production process of our products, we adopt a number of strict quality control measures, such as the whole process quality control, acceptance standards, and the cultivation of quality awareness of all employees, to ensure the accuracy and reliability of each product. Our heatsink products have passed multiple international certifications, such as ISO 9001, ISO/TS 16949, etc.
In order to meet the needs of customers for fast delivery, we have established an efficient production planning and management system to ensure the reliability of delivery time. Our production capacity is large, and we can quickly process various large quantities of orders, and provide powerful customization services. Customers can choose different heatsink sizes, materials, shapes and structures according to their needs.
We not only provide high-quality products, but also provide high-quality after-sales service. We promptly follow up on customer issues and feedback and provide the best solution. Our goal is to minimize any issues that customers may encounter when using our products
The Advantages Of Aluminium Extruded Heat Sink
While the main function of a heat sink is to regulate temperature and prevent any heating issues, it also aids in preventing breakage and even provides heat in case the temperature is too low. Copper and aluminum are the two primary metals used in creating heat sinks
Here are some of the benefits of Aluminium extruded heat sinks
1.  Aluminum is a great thermal conductor, which is the main factor while creating heat sinks. In addition to this, it is popular for heat dissipation, high-strength metal heating, and lightweight material. The metal can be squeezed into various shapes of radiation, whether its wide flat heat sinks or oval sinks.
2.  The Corrosion-resistant and rust-free material of aluminum is another reason why aluminum extrusion heatsinks are widely used across industries as it serves along without causing any heating issues
3.  High-pressure bearing and strength are among the qualities of aluminum extruded products. Even in the case of thinness or thickness, aluminum can handle sufficient pressure without getting damaged.
4. Aluminum is capable to handle various surface treatments with a wide range of designs and colors, making the final product look durable and attractive to be used for different devices.
Why Choose Us As Your Heat Sink Supplier In China
Have a Special Requirement?
Generally, we have common heat sinks products and raw materials in stock. For your special demand, we offer you our customization service. We accept OEM/ODM. For an accurate quotation, you need to tell us the following information:
Extruded heat sinks are the most common heat sink used for thermal management today. They are manufactured by pushing hot aluminum billets through a steel die to produce the final shape. The most common aluminum alloy is 6063-T5, but other 6XXX alloys can also be examined as needed.
Most extruded aluminum heat sinks manufacturers use fully automatic aluminum cutting machines, which are relatively mature solutions. Due to the high precision of the automatic aluminum cutting machine, some equipments reach 0.01 mm. This effectively ensures the accuracy of the sawing, and for those extruded aluminum heat sinks with low sawing difficulty, the high precision of the spindle makes it possible to use ultra-thin saw blades.
That being said the lowest tooling costs for a small extruded heatsink will be in the range of 500-1000 $. Per unit cost will conversely be in the range of a few dollars.
Most extruded heat sinks are made from aluminum alloys, mainly from the 6000 alloy series, where aluminum dominates. Trace amounts of other elements are added, including magnesium and silicon. These alloys are easy to extrude and machine, are weldable, and can be hardened.
Famos Tech Is Heat Dissipation Expert
Famos focus on heatsink ODM & OEM for over 15 years, our heat sink factory customizes and wholesale bulk extruded aluminum heat sinks, designed and produced more than 5000 different shape heatsinks. If you have any heat sink requirements, welcome to contact us.