Extruded LED COB Heat Sink Custom | Famos Tech
Product Detail
FAQ
Product Tags
Extruded LED COB Heat Sink Custom
If you already have a design for your Led COB heat sink, we can help you manufacture them, just send us your design file, we can according to your design to produce precise measurement LED COB heatsinks.
If you don't have a design for your LED COB heat sink , only have a concept,no worry, just tell us the following information:
1. what LED lamp do you need the heat sink?
2. How much space does your LED lamp have for the aluminum heat sink?
3. What is area size of the LED COB heat source ?
4. What shape do you want for the aluminum LED heatsink ?
5. What is the maximum temperature of the heat source ?
6. What is your target temperature ?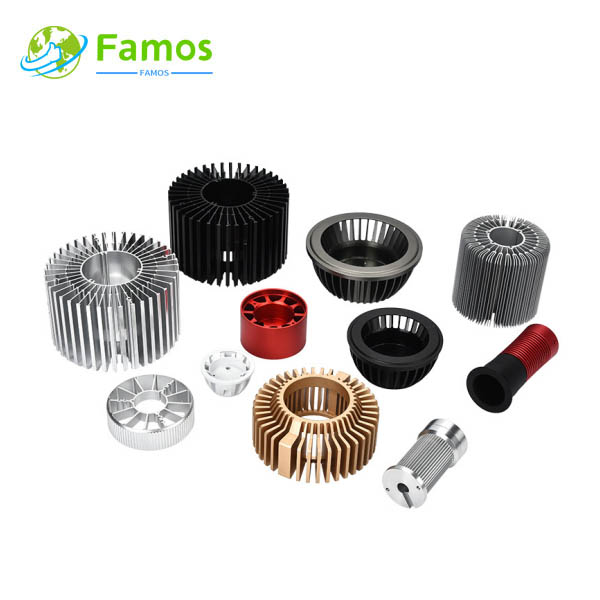 We are professional thermal solution provider, we will recommend and design for you, from prototype heat sink to mass production ,one stop service, supply LED COB heat sink samples free for you testing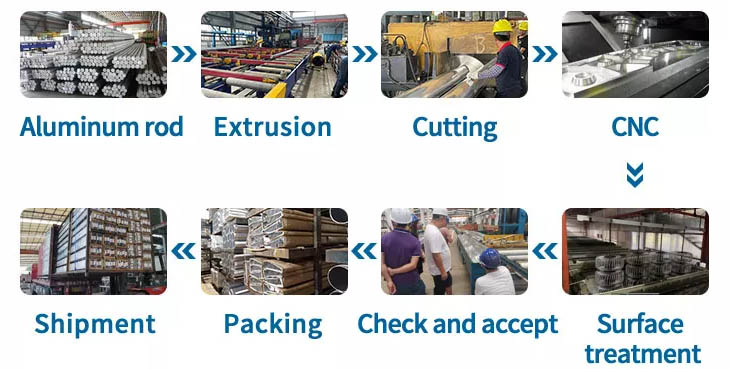 Get Fast Sample With 4 Simple Steps
LED COB Heat Sink Heat dissipation Considerations:
Aluminum fin
This is the most common way of heat dissipation. Aluminum fins are used as a part of the shell to increase the heat dissipation area.
Surface radiation treatment
Radiant heat dissipation treatment on the surface of lamp shell is simply to apply radiation heat dissipation paint, which can bring heat away from the surface of lamp shell by radiation.
Aerohydrodynamics
Using the shape of the lamp shell to produce convection air is the lowest cost way to enhance heat dissipation.
Fan
The interior of the lamp housing is enhanced by a long-life high-efficiency fan, which has low cost and good effect. However, it is more troublesome to change the fan, and it is not suitable for outdoor use. This design is relatively rare.
Heat conducting tube
The heat is transferred from the LED chip to the shell fins by using the heat transfer tube technology. In large lamps, such as street lamps, it is common design.
Optimal Design for Extruded LED COB Heat Sink
Our engineers use CFD computer software to create the thermal modules and simulations,it allows you to create a thermal Imaging of your application for detailed analysis. from the analysis, it becomes easy to establish the specific extruded LED COB heat sink you need based on performance.
LED COB Heat Sink Common Dies
Famos Tech as a leading LED COB heat sink top supplier ,we own over 100+ LED COB heat sink dies for different led lamps, some dies are universal for LED lamps, if you use our current led heat sink die, can save much cost to produce the new die of LED heatsinks. That is more economical than you buy from other supplier who don't have the dies in stock, and that will move faster for you LED lighting projects . Famos Tech is your best choice!
Famos Tech is your best choice, focus on heat sink design and manufacturing over 15 years
Custom Your Extruded Heat Sinks
Famos Tech Is Heat Dissipation Expert
Famos focus on heatsink ODM & OEM for over 15 years, our heat sink factory customizes and wholesale bulk extruded aluminum heat sinks, designed and produced more than 5000 different shape heatsinks. If you have any heat sink requirements, welcome to contact us.
---
---
How To Correctly Choose LED COB Heat Sink ?
Due to high heat during operation, LED lamps must use aluminum alloy with high thermal conductivity. There are usually die-casting aluminum LED COB heat sinks, extruded aluminum LED COB heat sinks and punched aluminum LED COB heat sinks
You can according to your LED lamp requirements to choose suitable heat sinks.
1. Die-casting Aluminum LED COB Heat Sinks
The die-casting aluminum heat sink is a technology of die-casting parts. The liquid zinc copper aluminum alloy is poured into the feeding port of the die-casting machine, and the radiator with the shape defined by the designed mold is cast by the die-casting machine. production cost is controllable, the cooling wing cannot be very thin, and it is difficult to maximize the cooling area. The common die-casting materials of LED lamp radiator are ADC10 and ADC12.
2. Extruded Aluminum LED COB Heat Sinks
It is a Heat Sink that extrudes liquid aluminum through a fixed mold, and then cuts the bar into the desired shape through machining. The cost of post processing is high. The cooing wing can be made very thin, and the radiating area is expanded to the maximum. When the radiating wing works, it automatically forms air convection and diffuses heat, and the heat dissipation effect is good. Common materials are AL6061 and AL6063.
3.Punched Aluminum LED COB Heat Sinks
Stamping and stretching steel and aluminum alloy plates through punch and die to make them become cup and barrel type heatsinks. The internal and external edges of the punched heatsinks are smooth, and the heat dissipation area is limited due to the lack of wings. Common aluminum alloy materials are 5052, 6061 and 6063. Stamping parts with high material utilization rate, which is a low-cost solution.
Write your message here and send it to us